30th Picture Video
This Video was played for the Min Reunion Classmates of 1974, April 9, 2016.
Pictures were taken by Mary Scott (Knox) McNabb '74 and
Mike McNabb '73 in August 2004
About the Music and Lyrics Meaning?
September by Earth, Wind & Fire 1978
This song has a tendency to make people happy when they hear it. Allee Willis, who wrote the song with Maurice White and Al McKay from Earth, Wind & Fire, describes it as "Joyful Music."
Although many people hear the first words in the chorus as "Party On," it's really "Bada-Ya." Allee Willis explained in her Songfacts interview: "I absolutely could not deal with lyrics that were nonsensical, or lines that weren't complete sentences. And I'm exceedingly happy that I lost that attitude. I went, 'You cannot leave bada-ya in the chorus, that has to mean something.' Maurice said, 'No, that feels great. That's what people are going to remember. We're leaving it.' We did try other stuff, and it always sounded clunky - thank God." "Never let the lyric get in the way of the groove"
Maurice White said this about the song, "It doesn't matter what it means. When we hear it, it's September 21st, and we are dancing again with our family, in a song that never really ends."
30th Reunion Picture Video from Stephen Spencer on Vimeo.
Hint - First Turn The Sound On, Second Play Video (1), THEN Full Screen (4) is obtain by clicking on the ICON (four square arrows) next to Vimeo Logo in the lower right corner of the picture.
SEE DIAGRAM BELOW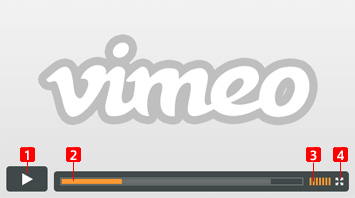 1. Play Button
2. Status Bar
3. Sound Volume
4. Full Screen Viewing